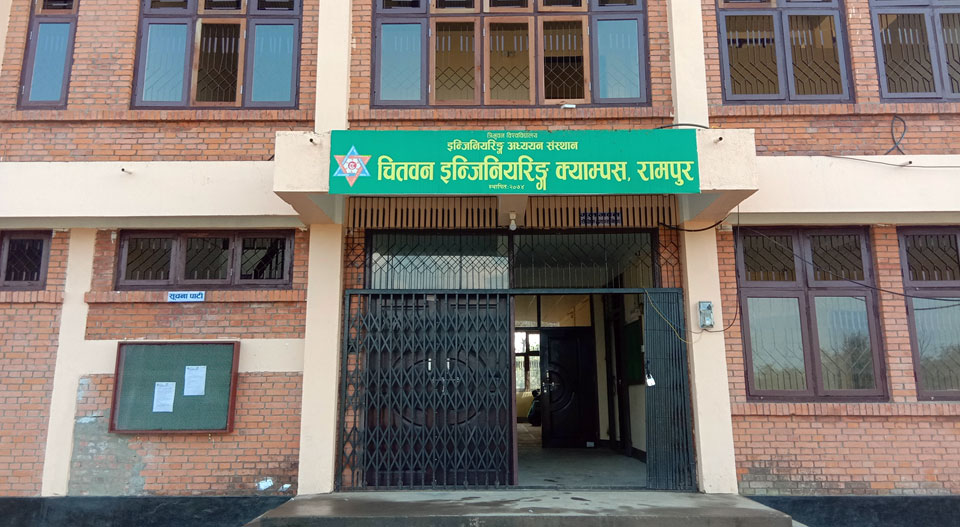 Chitwan Engineering Campus (CEC) is the fifth Engineering Constituent campus of Tribhuvan University, Institute of Engineering  outside the Kathmandu valley.
The recommendation of High-Level Commission report 2073 on 20th April 2017 (2074.01.07 B.S.) has been endorse by the office of prime minister and council of ministers regarding Tribhuvan University and Agriculture and Forestry University.  The execution of that decision implementation of office of council ministers has been endorse by Tribhuvan University Executive council meetings' on dated 11th august.2017 (2074.04.27 B. S). Moreover, The Tribhuvan University Senate meeting under chairmanship of chancellor's meeting has been endorse to open as a constituent campus under IOE dated on 13th August 2017 (2074.04.29 B.S.). The decision was done by Tribhuvan University Executive Council meeting with decision number 2335 dated on 10th March.2019 (2075.11.26 B. S) regarding opening as a constituent campus under IOE in the name of "Chitwan Engineering Campus". Therefore, 10th March.2019 is regarded as an establishment date of Chitwan Engineering campus.
Currently, Chitwan Engineering campus recognized as a sixty-three-constituent campus of Tribhuvan University under Institute of Engineering (IOE). It's a moment of joy and pleasure as well as an opportunity for IOE to serve the nations by providing the quality education with output of knowledge capital resources after thirty-eight years since 1981 by extending its arm. The IOE has initiated with an academic program of Bachelor in Architecture with an intake of twenty-four students on 18th august 2019 with approval from faculty board steering committee of Institute of Engineering (IOE) outside the Kathmandu Valley in Bagmati Province on Bharatpur Metropolitian ward Nos 15, Rampur.
According to the feasibility study report prepared by Dean office, Institute of Engineering and approved by faculty board of IOE based on onsite visit dated on February,2019 to run bachelor level programs at Chitwan Engineering Campus, Rampur has proposed for six programs in bachelor level. The land area of this campus is largest among other four campuses of IOE with land area of forty bighas nineteen Khatta. The projected cost estimation for physical infrastructure development is approx. twenty arabs in Nepalese currency. Currently, with an intake of 24 seats, first intake  is continuing their academic courses on bachelor in Architecture.